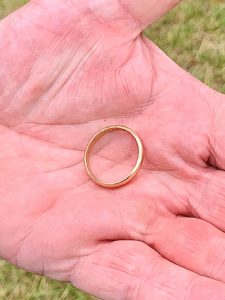 A gentleman living in the upstate of South Carolina lost his fathers wedding ring; this ring was inherited upon his fathers passing. The gold ring was going to be given to the gentlemen's son one day, but unfortunately the ring slipped off his finger, somewhere in the yard.
The client contacted me and we arranged a time I could come search the yard. The area being searched was maintained grass and woods. The time searched was approximately one hour. The ring was located at the edge of the grass almost under a shrubbery. Approximately half the yard and wooded area had been searched during that hour.
The client was very happy and promised to spread the good word about The Ring Finders and our services.