6/26/16
I got an email last night from a lady who was swimming with her grand kids at a large beach 3 days ago when she lost her wedding and engagement ring. She and her husband had gone back a couple times and spent many hours looking for it. They had even gotten the help of a local metal detectorist who had some very nice equipment. But, the ring was not giving up easily on it's hiding game! She told me by phone approximately where she had been relaxing on the beach and wading and floating on a tube with her grand kid. So, this morning I got up early to go search, because the beach was an hour away, and there was going to be a huge crowd there today with the temperatures going near 90 degrees! I wanted to have the best chance before someone else might find it and keep it. I stopped at the park ranger's cabin and she gave me an enthusiastic "yes" when I asked permission to search way before opening hours. About 20 seconds and 10 feet of searching went by and there was that great signal of gold! I pushed the pinpointer into the sand and it located the ring about 3 or 4 inches down. It was very well protected from sight!
I called her right up and she said she was about to come to the beach and show me where she had been and to help look for it. She was very shocked and happy to hear that I had found it already. I sure love making those calls! I love doing these rescue missions! I love the happy reunions!!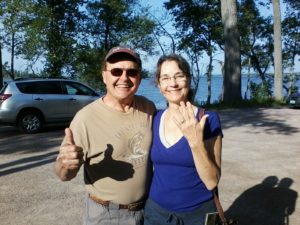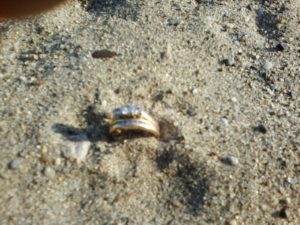 Please click on my name above for more stories and my contact information.