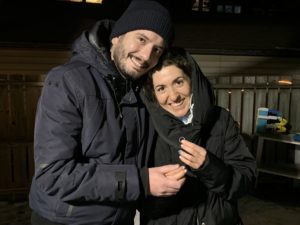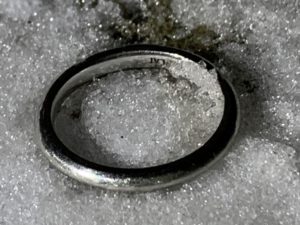 I received a phone call from David in downtown Toronto. His Wife Sonya was removing their 2 year old toddler from a stroller. She brushed off the stroller and thought she felt her platinum wedding band fly off into the snow.
After David and Sonya searched for an hour or so then David reached out to me to see if I could help. I advised there were two other metal detectorists registered with "The Ring Finders" directory in Toronto which were much closer than I. I provided some search tips and advised if they weren't available I could pop down after work the following day as I had a visitor. My visitor was called into work and left immediately. I then called David back to make myself available if the other Ring Finders were not available as I know the misery it would cause and probably a sleepless night ahead for both of them. They took me up on my offer and I left immediately.
I was happy that the crazy Toronto QEW traffic was light and that I had no issues! Toronto traffic can be insane at the best of time non-stop bumper to bumper!
I arrived an hour later and proceeded to the backyard. I could see the backyard was entirely concrete under the snow fully knowing rebar and old metal bits would be and issue. Here I was thinking another 'quickie'………NOT!!
After 10-15 minutes with the big coil and putting my pin pointer through a workout… I changed out my coil to the small 10" x 5" CoilTek Coil and turned down the sensitivity …. I then re-gridded the area and decided to go towards the pathway into the backyard and BOOM A SOLID 12 on the Equinox and tone was perfect! Even thought David's platinum wedding band was the same it rang up a 15/16 on my machine!
Please check my link to the video, like and subscribe to my YouTube channel @Pink Power Ally Treasure Hunter / Detectorist
link here;
First I surprised David…. then David went along with me to ask Sonya "another question" bringing her back outside and of course she was happily surprised!
David and Sonya were so thankful for my help and I was grateful for their immediate generous donation to the Kelly Shires Breast Cancer Foundation! I'm sure if they called one of the other two RingFinders this precious sentimental wedding band would have definitely been recovered either way!!
Thank you David & Sonya!
#toronto #torontolife #lostweddingband #ontarioringfinders #pinkpowerally #payingitforward #landsdown #highpark #lostringinsnow #theringfindersdotcom #charity #fundraising #breastcancer #kellyshiresbreastcancerfoundation