Clearwater Beach Lost Wedding Ring Set Found and Returned
Javan and his wife were spending some time at Clearwater Beach after their wedding that day. They had played in the hotel pool for a while then got out and walked to the sandy beach and sat down on the lounge chairs to warm up. Javan's new wife had her wedding ring set in her hand and when they decided to get up and go into the gulf she slide them back onto her finger.
They walked a few steps into the water and it felt so good they sat down, leaned back and let the water wash over them. Later they went deeper into the gulf and just enjoyed each other and the warm water. Later as they emerged from the water they noticed the wedding set was missing. They looked everywhere but it was not to be found.
The next day Javan found SRARC through The Ring Finders site and we organized a hunt for that evening. Stan Flack, Bill Gallant, Ed Osmar, Celeste Roles, and Mike Miller showed up and met Javan at 6:30 pm. Javan explained what had happened and where they had been and we went to work searching the water and the sand. After a couple hours we all were losing hope when Bill Gallant walks over to Javan and asks Javan to look into his scoop and there it was. Javan jumped for joy and we all joined in. We didn't get to see the look on Javan's wife's face when he put the ring on her finger for the second time in two days but I bet she was all smiles.
We wish these two the best for their future and are happy we could help them. Bill you did a great service for this couple and we congratulate you on your success in finding the ring.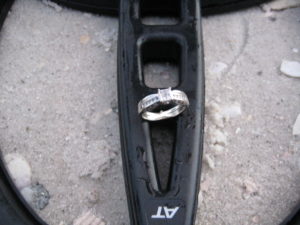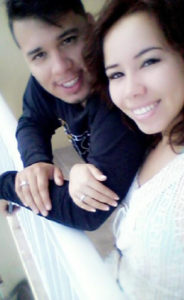 The SRARC Ring Finders Metal Detecting Service-Tampa Bay Area, Pinellas, County, Manatee County, and Sarasota County.
Lost Something Important? We can HELP, Our service is FREE!!!
Donations to the club are accepted.
The Ring Finders Metal Detecting Service in the Tampa Bay area can locate your lost engagement ring, wedding ring, favorite piece of jewelry, family heirloom, or other important personal item.
We will send a team of metal detector experts to search virtually any location, some of the most common are parks, beaches, creeks, and even your own back yard. If you lost your RING or other precious item "Don't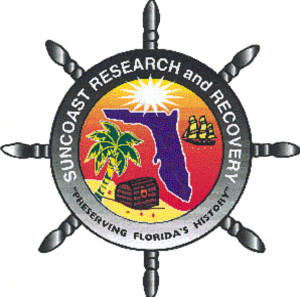 Wait-Call Now!"
Tom…727 415 7968
Mike…425 503 8419
Stan…727 421 9293
SRARC Web Site
The Suncoast Research and Recovery Club Ring Finders Recoveries