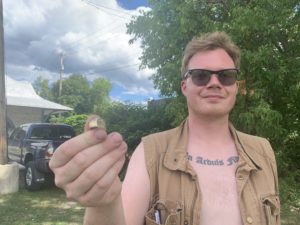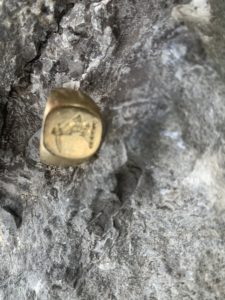 Good morning everyone here's an incredible story for everyone to read. On July 25th Rob and his girlfriend Maria Helena were swimming at a beautiful beach in Gatineau.  While enjoying the swim Rob felt his ring slip off his pinky and into the water. Please note that this is a family heirloom ring that he holds dear to his heart.  The ring has a family crest on it and a written in Latin says ( to save lives everyday). Rob is a paramedic.
Rob and Maria Helena searched frantically in the water for more than 4 hours. When they couldn't find it they went on Facebook and wrote a note on the Metal Detecting  Ottawa site. They were sent to a fellow detectorist but he lived to far away. Stephane the detectorist sent Rob and Maria to me. After a phone call I made arrangements to meet at the beach to start the search.
Now once in the water it became extremely difficult to do my ring search I was thrown all over because of the waves. It what extremely windy and pinpointing a target was difficult when the waves are pushing you all over. We agreed that I would return very fast as soon as the weather was nice. A couple of days later the weather was finally beautiful.When I arrived at the beach I was happy for the water was calm. I started my grid search and within 45 minutes a nice glitter of gold appeared in my scoop. I love metal detecting it's my passion but most importantly I love to watch the reactions of the people when I give them their jewelry that I've found. Their reaction… it's priceless it's like as if they haven't seen a family member in years.
If you know anyone who's lost a piece of jewelry don't hesitate to call a ring finder. I love it and I'm a proud member of the Ring Finders. Take care of yourself and each other.
Kind Regards
Stephane