Call Ray for lost items 571.258.7217 www.mygoldfinder.com
Received a call from Kenny about a lost 14k Rose Gold engagement ring in Marshall Virginia. The ring had been lost for about a week. His wife lost the ring in a grassy knoll in front of his property. Kenny and his wife both searched frantically for several days. Kenny even rented a metal detector from a local shop but with no luck, so he did a little more research and came across theRingFinders network. Kenny provided me a few more details and we made arrangements for me to be at his location early the next morning.
Upon arriving I was hopeful as the area was not very large, however I did get a little nervous after seeing the amount of trash in the gully, but that's why I'm here. After greeting Kenny I got to work quickly, gridding out a few short paths, eliminating hits I knew to be trash. After about 40 minutes I got a solid hit on the Equinox 800, vdi 10-11. There buried under the leaves was this beautiful rose gold ring!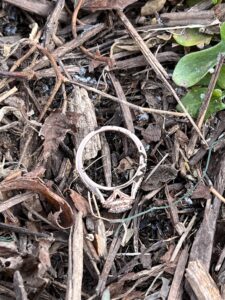 I sent Kenny a text with a photo of the found ring. He was so overjoyed and surprised I found it so quickly, and stated he wouldn't tell his wife until she came back from church. Great surprise on a Sunday morning!!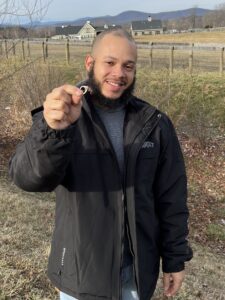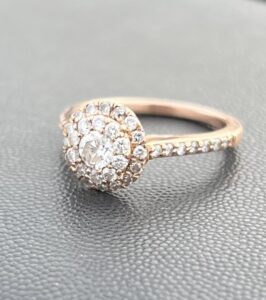 God Bless and happy hunting.
Ray