The 4th of July a Fun weekend for all Fireworks, Family, Boating, and the unthinkable, a lost ring!
While playing football in the waste deep water Elly went up for a catch and she felt the ring slip off her finger.
she went to catch it but it was too late it tumbled into the water and was covered by the sand almost immediately.
They looked in the area until almost dark. Through the panic of loosing thier family heirloom they marked the spot immediately with a boat anchor that they attached a bobber to.
Knowing the approximate area they left for the area for a sleepless night. I got a call the next day at around 10 am. I meet Them at the boat landing were they boated me to the spot on the lake where they had marked it.
I began the search right around the anchor and went out from there. After about 2 bottle caps and 2 pull tabs (20 Minutes)  I FOUND THE RING!!
Elly was excited and had a loss of words.
we went back to the resort they were staying by and celebrated with a couple of drinks.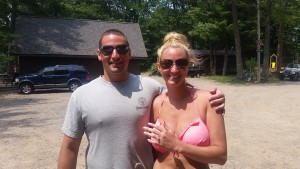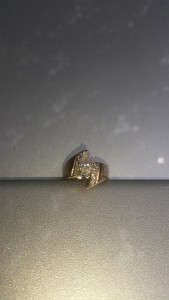 One Response to "Lost Ring found in La Courte Oreilles Hayward"