On a Monday morning I rolled over in bed and grabbed my phone thinking of the long day ahead of me. I looked over my emails and it read this..
Hi Kyle,
 We would love to have you help us asap. My wife and I were camping at KOA in Hayward over this past weekend and went canoeing. After about 5mins in the Namekagon river we hit a log and flipped over. Jen my wife noticed the ring missing immediately after getting up. Water is about 2-3ft high. We know where it happened and its really close to the road on US Highway 63. We live in Minnesota which is about 2hrs and 40mins away for us to drive and would like to plan on looking for it today the 30th. We are offering a reward to find it with our help. 
Please email me back as soon as you can.
 Thanks,
Mike & Jen
My dreadful Monday was now one filled with excitement, when I finally talked to Jen they were about 15 minutes from meeting up with me at a local gas station, from there we went to the side of the road where the river was close enough that we could take a short journey down a mosquito filled path and be on the river at the exact spot they overturned their canoe. Mike pointed out where the canoe flipped and I went into the current and was almost swept of my feet. I started detecting the back side of the log that they hit that overturned them. As the water was getting deeper I got a signal I took the sand scoop and took a couple swipes and I could see what looked like the top of a pop can. finally I just reached down and grabbed it and sure enough there was a beautiful ring in my hand. I instantly said " I found your ring" I put it on my finger and hurried back across the river and reunited the happy couple with their ring which they thought was lost forever.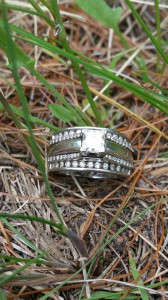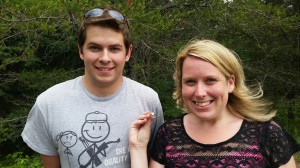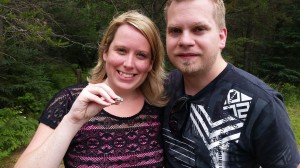 2 Responses to "Lost Ring Found In Namekagon River Hayward Wisconsin."