I received an email from a gentleman who wrote that he had lost his wedding ring while cutting his grass. He had been searching for it for several weeks when he located the Ring Finders site found my information and decided to contact me about a search. I told him I would be happy to come out on Saturday afternoon and search for his ring. The ring was not where he and I had initially thought it would be and so I kept searching and after just about an hour I located it in the front yard of his home. He had gone out for the afternoon and left me to search and so I sent him this photo to let him know we had been lucky!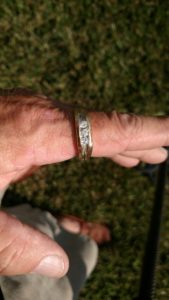 That afternoon ring recovery went quickly, which turned out to be a really good thing because as I was traveling to the gentleman's home on Saturday afternoon, I received a call from a woman in a nearby city who said she had lost a religious medal while cutting her grass. She too had been searching for days with no luck and she sadly described to me that she had received the pewter medal on her 19th birthday and that it was a cherished possession because it had been blessed by the Pope. Because of the earlier quick recovery, I was able to travel to her home that Saturday evening to help search for her medal. After just over an hour of searching and talking and remembering the events of the day when she had lost her medal, I got a good strong signal on my detector and there it was. The medal was close to where we felt it should have been, but we were just starting to get worried we might not find it and so we felt we had been blessed when we were able to recover it.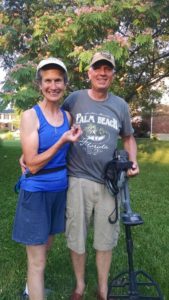 What a great Saturday!