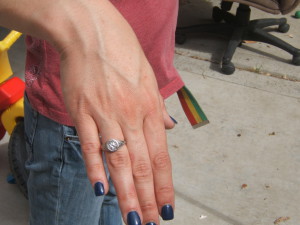 I got a phone call from a young lady that told me that she lost her Great-Great Grandmother ring that was given to her many years ago. She was playing with her dog in her backyard when the ring went missing. She spent 3-4 hours searching her back yard but without any luck.
She found The Ring Finders Website and contacted me to come and take a look for her ring. It took me 1 hour and 20 minutes to get there and after an hour of searching I told her to take a look around and see if she could find it and she did on the patio area where she would have filled the dog's water bowl…
Happy Ending!
If you have lost your ring call me ASAP!
Best, Doug Carney