I got a call this morning about a lost wedding ring, actually it was tossed across the yard and over the back fence in the middle of a disagreement (very common by the way)…. I had free time and met her 2 hours later. She had tossed the ring back in May and it is almost August and when we went to the location over the fence it was back then full of brush and now mowed down.
Good fortune was shining down on me and my nox 800 and I was able to find the ring within 30 minutes.  First the band and then the diamond ring about 20 feet away and both buried about an inch since it was there for some time and had rained as well.I can tell you she was absolutely thrilled to have her ring back and I got off easy as it was hitting 100 degrees..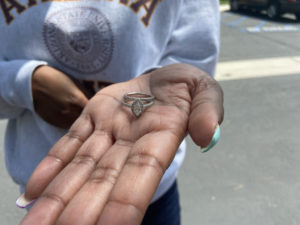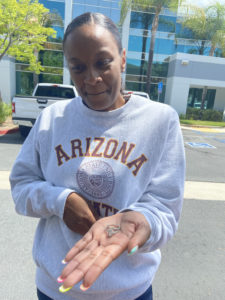 Here is what Daniqua had to say,
Don was amazing and so quick! After an argument I threw my wedding ring and band over the balcony. I live on a golf course and knew for sure it was gone. After two months, I decided to reach out to someone to see if it could be found. I called Don and an hour later he met me and went on the search. Less than an hour later he called and met me at my job with not one but BOTH rings! I was heart broken and just knew for sure it was gone forever. Don saved the day and possibly my marriage. I am forever grateful. Thank you Don!