On Feb 9th I received an email from Pat needing my services to find a lost class ring of his daughter Eileen, in a little suburban park. Playing fetch with the family dog the ring flew off her finger into the open grass. Eileen devastated losing her new class ring, searched for hours with her family, but no ring was found. So, Feb 11th the 1st day of my search, wind-chill in the 20's. Pat's wife Antoniette graciously made hot coco for my wife and I, and snacks for my kids who were with us at the time. Thinking this would be a quick find, (I should know better) it was not.
The following weekend Feb 18th was my 2nd search, I arrived early in the morning to put in a good grid search. I had to find it today knowing that there were snow storms predicted for the next two days. I was doing about a 30ft x 30ft grid pattern, and on my third grid as I was bending down to pick up my small orange cone that I use, I noticed a silver sparkle a foot from the cone (fist pump!). Yup, there it was Eileen's beautiful class ring with a blue stone. This would mark the third time finding a piece of jewelry for someone without passing my detector over it. "Game of Inches" as Mr. Chris Turner would say. "Making the call" I think is the most rewarding for the Detectorist to the customer. So, I called Pat with the good news that Eileen's ring was found, he was astatic.
I want to thank Pat and Antoniette for their kindness to my wife and kids on that cold Feb. day, my search wouldn't have lasted as long as it did without the hot coco. Eileen, I am so happy to have found your ring for you.
Best,
Dan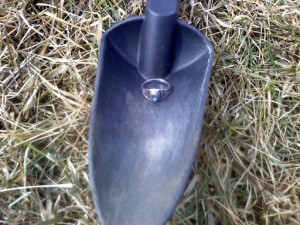 One Response to "Lost Class Ring in small suburban park..found"