A 6 hour search for Alex's lost white gold wedding ring was a success today.
Alex lost the ring in a reasonably large area of Hillarys boat harbour marina. He was initially in the shallower water but also ventured into deeper water of around 8 feet deep. I knew I had to search the deeper section during the low tide and with the use of mask and snorkel with weight belt. Because the water is quite clear, dragging a heavy steel scoop behind me leaves a series of drag marks on the sea floor so this allows me to know where I have been.
There was no sign of the ring in the waist deep water so I moved the search area to the deeper section. With 7 feet of water, all you can see is the top few inches of my snorkel poking above the water as I walk the sea floor and scanning with my metal detector.
I finally got my first deep signal and after some effort managed to dig up a nice white gold ring. This was a difficult search as the water would regularly cover the top of the snorkel and end up in my mouth……must pick up one of those dry snorkels one day.
Before the search, Alex sent me a Google map of the search area which makes things that much easier when hunting. If you have a look at the picture he sent me, I would guess the ring was found at the far left hand side of the red line that he drew.
Thank you Alex for contacting me and I appreciate the nice reward.
Tony.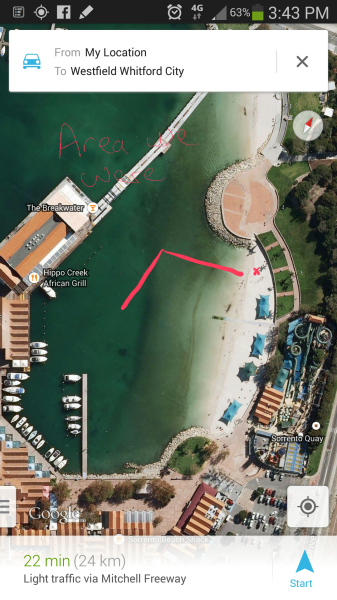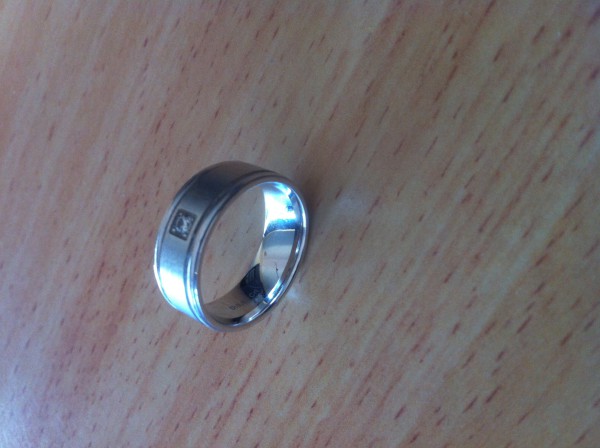 4 Responses to "Lost ring found at Hillarys, Perth"