Part 1;
Justine contacted me a few weeks ago with tales of woe.
She had lost a very large and expensive ring whilst wading in the shallows at Swanbourne Beach, here in Perth. Justine gave me a precise description and picture of the ring. It was a beautiful 18K white gold with a precious blue gem (sapphire?) set into the middle. The ring was a whopping 30 grams (or 1 troy oz in the old scale). I won't disclose the exact value of the ring but lets just say it made my jaw drop. The ring had been hand made for her and the precious stone had originated from India or Sri Lanka (if I recall correctly).
The ring was sent flying off her finger when she had thrown a tennis ball to a friend. The size of the ring had made a definite "kerr-plunk" when it landed in about 1 metre of water.
Justine made some good mental notes of the lost zone as well as reference points back on the beach. I cannot stress the importance of doing this as soon as possible. Justine did a great job of doing this and luckily we also had a floating marker about 100 metres off shore.
The day she lost the ring was a warm and sunny 32C (90F) day with perfect conditions to try and hunt down the ring in the pristine waters. Unfortunately, a low pressure system managed to develop before I could get into the water which created very heavy seas, rain and swell. I took photo's of the beach and measured an accurate distance back to the sand dunes as I had no idea how much beach would be stripped away. I also set some small lead weights with floats attached so as to gain some idea of where things would end up after the storm had passed. I have to admit that I wasn't feeling too confident about ever seeing this ring again and it would be some time before conditions would even let me venture into the water. I assured Justine that I would hunt long and hard as soon as conditions improved.
Part 2; (3 weeks later)
Well at long last, hot summer weather with strong offshore winds finally arrived. I checked the beach cams and tide tables and everything was set up for perfect water hunting. My only concern was the sand that had either been washed in or out.
I hit the beach at 5am this morning and conditions were perfect. The water was clear and flat. My test targets were no where to be seen which was really disappointing. I think that maybe someone had removed them from the water which is not unreasonable I guess.
Anyhow, the sand was the problem as I could feel it was quite deep in places. I was looking for shells and depressions as well as heavier targets such as fishing sinkers and coins. I spent the next 3 hours digging junk targets such as beer caps and pull tabs. Some of these lighter targets were down quite deep so I knew that the ring was going to be way deeper into the sand. I had covered the area really well but for some reason I was thinking that the ring was further out as I could see a small drop off into deeper water.
When my first coin finally appeared in about 5 feet of water, I began to get hopeful and shortly after a lead fishing weight appeared in my scoop. I was definitely in the right area as the targets weren't new drops but were corroded coins that had been in the water since the previous summer. I kept going into the sixth hour and had managed to dig about 20 targets but still no ring. I pushed out a little deeper into the drop off where it levelled out quite nicely and began to hunt the edge of the channel following the "coin trail". This was a classic case of similar sized/weight targets being sorted by Mother Nature.
The detector signalled another deep target which I knew would take some digging. The yellow LED light on my detector flashed at me telling me something was there so I kept digging and digging until finally the signal from the hole was gone and that "something" was in my scoop. I let the sand melt away from my steel scoop and there in the bottom was one very large "silver" coloured ring. I think my hands were shaking a bit as I grabbed at the ring, the weight was astounding and as soon as I flipped the ring over and saw the dazzling blue stone in the sunlight then I knew that I had found what I was looking for.
I clenched my fists in elation as you can see from the actual video that I took "live".
Another tide cycle and that ring would have been beyond the range of my detector and maybe lost forever.
Justine, it was a joy to find this ring for you. Thank you for seeking out TheRingFinders services but promise me that you won't wear it in the water again !
Tony.
Here is a photo of Justine's ring and the video of the discovery.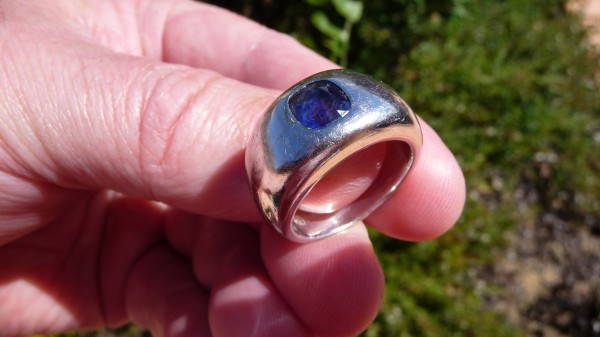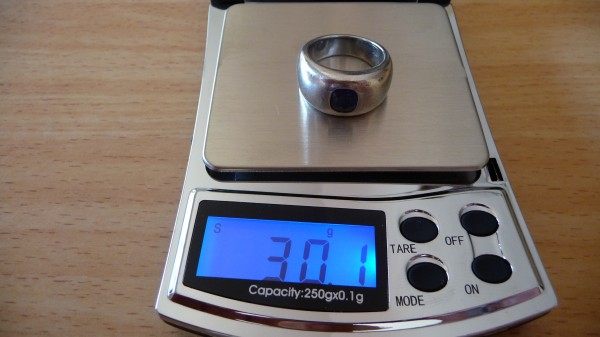 https://www.youtube.com/watch?v=LXkdEunXJfw
6 Responses to "Lost Monster 18K white gold ring at Swanbourne Beach, Perth…… has been found !!"