I received a call from Tracy earlier this week regarding her husband's lost gold ring. The big white gold ring was lost in a corner of her property, amongst thick grass and bushes. Tracy was confident that the ring was in an area of about 10 metres by 10 metres.
I arrived yesterday morning feeling confident that the ring would be found easily but as we all know, "if you miss it by an inch you miss it by a mile".
The weather wasn't going to plan and sure enough, the rain really set in. I joked that I should have brought along my underwater detector as the puddles began to form in the search area. Tracy managed to get me a pair of rubber boots which were definitely going to be needed today. I wrapped my newly purchased Tesoro detector in a plastic bag and set off to find the ring, full of hope and optimism.
Well, let's fast forward 2 hours and see what we have found. Yep, I had found a piece of wire and a bottle cap for my efforts! I had searched the area 100% and the ring was no where to be seen. The ground was a heavy, mineralised clay that my detector didn't like one bit but I had tested my gold ring and it signalled through nice and clear. Where the @#*&% was this ring? I had doubled the search area and still nothing. All I knew was that I hadn't swept my coil over it.
The property boundary fence wasn't really close to the search zone and the metal wire fence meant that I couldn't get within two feet either side of it without the detector screaming at me. I made the decision to cease using the metal detector and started eye-balling along the fence line. The amount of roadside metal junk also made using the metal detector pointless if the ring was nearby. I decided that there wasn't much more to be done with this search so I trudged off inform Tracy of the bad news.
Tracy was naturally disappointed but very appreciative of my efforts. I thanked her for the fuel money and the very nice gift of an old Garrett Groundhog metal detector which showed signs of life after I switched it on.
I told Tracy that I would return during the summer as by this time the thick grass that impeded my searching somewhat would have died off. It was really frustrating leaving without finding the ring…….a large 18K white gold ring was out there somewhere.
As I was about to turn onto the main road and head home, the rain decided to stop and the sun broke through the heavy clouds……"ah, what the heck, one last quick walk along the fence line", I said to myself. I hopped out of the car and walked the same ground that I had covered only 30 minutes ago. As I started my way back to the car, I was casually scanning the ground and then suddenly, peeking through the gravel and clay was a silvery object that just flashed at me. I immediately thought it was a beer cap or similar junk object but on closer inspection it was indeed a very large and heavy white gold ring…..unbelievable. That is two consecutive searches where rings have been found within the last seconds of searching.
Tracy was elated with the discovery and just so satisfying to know that the ring isn't lying somewhere, lost forever?
Thank you Tracy for the nice reward and the Garrett detector. I may have to send it in for servicing. Please feel free to add a comment to this post.
Regards,
Tony.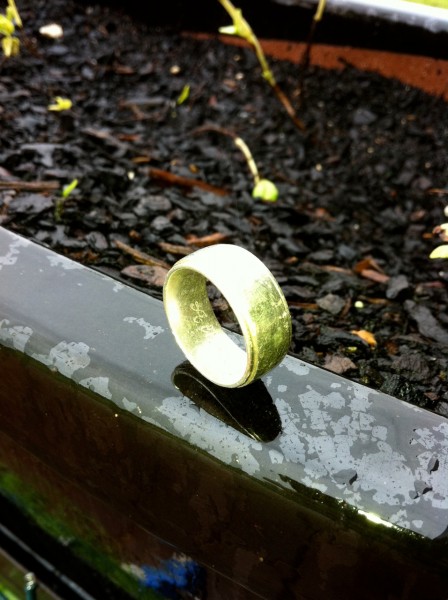 One Response to "Lost white gold wedding ring has been found in Perth"