Andrew contacted me recently in order to recover his large white gold wedding band that he lost in very shallow water at one of Perth's lesser known beaches. He was very confident in the ring's "drop zone" with an area of about 20 metres by 5 metres. I was confident in finding this ring as the area is reasonably calm and other metal detectorist's very unlikely to have been in the area.
I met Andrew at the beach this morning and told him I would contact him within a few hours to let him know whether I had been successful or not.
I grabbed all my gear and proceeded to grid search the area as best as I could. The area was thick with shells and iron junk signals were everywhere. This search called for patience and a methodical search pattern.
About an hour later, I had my first non-iron target through the headphones. Surely I couldn't be this lucky ? I sunk the steel scoop into the sand and shells and began to slowly sift the contents. Lodged in a shell was Andrew's large white gold wedding ring. It was found in about a metre of water having been swept from the steep beach into the first gutter. I quickly called Andrew with the good news and personally delivered the ring to his work location which was only 10 minutes away.
Nice meeting you Andrew and thanks for the tour of your very impressive work facility.
Regards,
Tony.
Here is Andrew's ring prior to it being returned to him.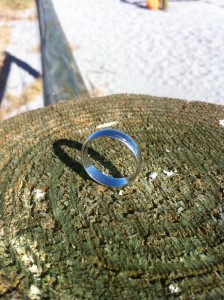 One Response to "Lost white gold ring at O'connor beach Perth has been found"