Prior to joining the RingFinders, I had 1000 business hobby cards made up which I leave at all the beachside hotels, lifeguard stands and cafes, etc.
These cards have generated plenty of business for me.
I plan to print some more updated with TheRingFinders website details.
They are really quite cheap to have ordered and made through businesses that provide this service. The ones I had made up are a semi gloss card which gives good protection from the elements.
Here is the front of my card,
Tony.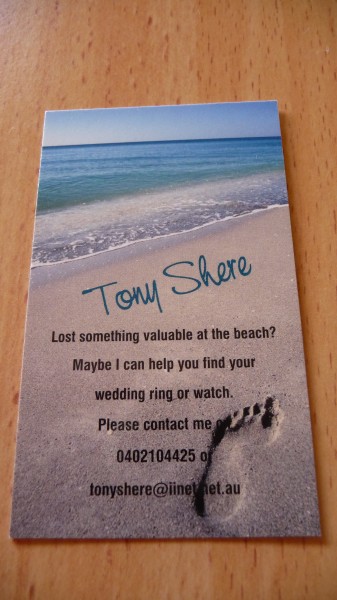 I also tried flyers but I tend to find these too big for many notice boards and being regular paper, they suffered from sun, wind and water damage. The small business style cards really do the job well, they look professional and aren't discarded. I think they worked out at about 10c each if you order in bulk. Keeping the theme fairly simple is also a good idea.
2 Responses to "Metal Detecting "Business" cards"