Had an emergency call from a girlfriend I hadn't seen in a couple of years as she lost a very sentimental ring into a Georgian Bay lake in beautiful cottage country of Muskoka, Ontario. (respecting her privacy / area not to be named)
She tossed a line into the water to tow her SeaDoo back to the dock. Unfortunately her ring flew off her hand into 15' of cold water. She had the smarts to immediately note two landmarks and called me immediately!
I was excited to head up to her location with brand new gear to test out along with finding her precious ring.
I made arrangements for the following weekend even though waters were roughly 12C. I met her at the marina and headed to her beautiful home!
All my gear was set up, checked and off I went with her as my spotter. My new DIve BLU3 Nomad Hookah system worked great alongside the new underwater metal detector the Nokta Makro "Legend", and my underwater circular gridding tool.
On the 3rd outing after I moved my circular gridding tool closer to shore, I had a solid double tone! I was hoping this was it because I was starting to get cold! Second grasp of silty debris and I had the beautiful ring!! Now the surprise…
Check out the video;
I came up and handed over my gridding tool and detecting, went into her dock area and then the surprise!! Priceless! She was absolutely thrilled!!!
I am extremely grateful for the incredible donation she made to the Kelly Shires Breast Cancer Foundation as well as her wonderful hospitality!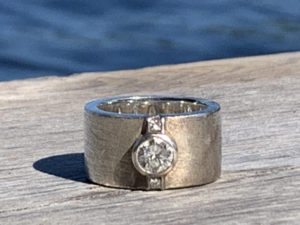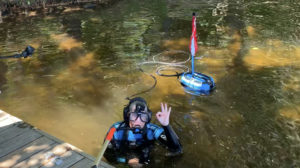 #muskoka #severn #georgianbay #cottagecountry #lostring #lostinwater #divedetecting #hookahdetecting #diveblu3 #diveblu3nomad #noktalegend #pinkpowerally #treasurehunter #OntarioRingFinder #TheRingFinderDotCo