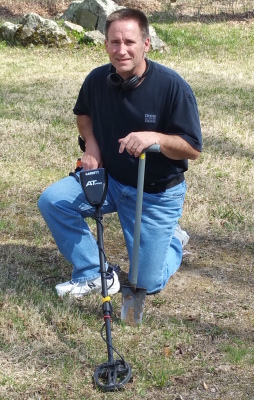 Search Locations

Harleysville and Northern Montgomery County, and surrounding ares.

Search Types

I have used metal detectors all along the east coast from NY to Fl. My experience includes searching beaches, parks, private, and commercial properties, woods, pastures, fields, shallow water, and snow

Cost For My Service

I work on a reward basis and you pay for what you think it is worth, but I have to charge a $20 call out fee to cover fuel and transportation costs regardless if your item is recovered.

Please Note: You (The Client) are responsible for paying for any permits and getting signed authorization to search on private or restricted property.

Evidence and Insurance recovery rates are negotiable
---
Kevin Smith's Bio

I started metal detecting as a boy in the mid 70's after watching two men searching an old church near where I lived in the Pocono Mountains. I was fascinated by the history and the excitement of recovering items that were lost to time.

Over the years I have recovered numerous items for people who had lost cherished rings and items that they assumed were gone forever.

I am former law enforcement who during that time was trained in computer science and am now currently an IT Director for a large pharmaceutical company.

Feel free to contact me if you are interested in uncovering items other than lost jewelry – historic relics and artifacts – hidden or forgotten valuables – irrigation systems – cables – property markers – utilities.
---
Back to United States