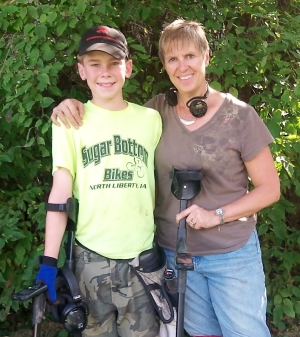 Search Locations

Cincinnati and Dayton and all surrounding areas.

Search Types

Parks,Lakes & Yards...We also have underwater metal detectors and can search up to 10 feet deep in water.

Cost For My Service

I work on the reward basis. You only pay if the item is found, however we have a local call out fee of $25 which is required (gas money) even if the lost item is not located. If the search location requires us to travel more than an 50 miles round trip, the call-out fee may be greater (50 cents per mile) and must be agreed upon in advance. Everything will be in writing so there will be no surprises! Where required, all searches are performed with permission by property owners.
---
Haven Evan's Bio

My son and I started this hobby over a year ago when he asked for his first metal detector for his 11th birthday. We go to local parks and other local areas to hunt for old coins and relics. We started having lots of success finding great relics and old coins. Last July, we upgraded our machines to XP Deus's, the top metal detectors in the industry. Between the two of us, we will be able to find your lost item. We have 3 different machines which will benefit us when locating your lost item. We are very passionate about this hobby together and look forward to helping you find your lost ring, etc.

Personal Related Websites
---
Back to United States